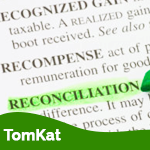 You have a Challenge: We mentioned the importance of time – your time. Bank recs are easy and quick when everything works out perfectly in the first pass. Credit card reconciliations, too, should be the simplest of exercises. Except that, sometimes, they're not. We're not aware of anyone who enjoys tracking down a lost check, finding out that something has gone awry in the cash account, or discovering that exciting, unexpected entry on the credit card statement. Time slipping away…
We have a Solution: We've gone into businesses over the decades whose bank accounts have not been reconciled for years (literally). We've tracked down outstanding items that weren't outstanding after all, rather there was a miscue in the register. Perhaps we're both just closet detectives who love to solve cases! More realistically, it's part of the bigger picture, making sure that the numbers you're looking at are accurate. It's an important piece, and it's one more thing that eats up your time. Use our time to your benefit.
What you can expect: We will present you with true, reconciled numbers, month after month. We will find out if there are any processes that need to be tweaked. And you will know, at any given point in time, that your account balances are what you think they are. We've been told a number of times over our careers: "Cash is King". Make sure you know exactly who is sitting on the throne.