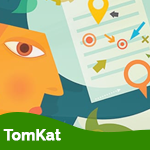 You have a Challenge: You're just about there. Great people and systems are in place, the dream is growing in spite of the occasional detour, you have accounting and reporting on which you can rely, and things are moving pretty well. (Maybe you've been working with TomKat already!) Now you have the time to look at some of your other processes: Collections and Payables timing, payroll practices, perhaps balancing inventory levels between customer service and effective cash management, and so many other things that support the smooth functioning of an organization or business. Things are good – but don't let "good" be a substitute for "the best".
We have a Solution: As we've said before, and as you've already come to realize: we've been there. Between us we've been responsible for everything in accounting, finance and operations there is. And we've done it in all kinds of businesses, in not for profits (such as community and religious organizations, as well as churches) – if you go to our Services tab, it will give you a pretty good sampling of some of the things we've done. In that journey, we've: tightened up inventory processes; written effective collections procedures; reached out to vendors for the most favorable terms; talked with angry customers and turned them into friends; worked on developing employee morale programs; you get the idea.
What you can expect: By now, you've probably realized that we are professional in our approach, extremely experienced, and passionate about what we do. We set a remarkably high bar for our own integrity. Give us a call! We'll sit down with you at a no-cost initial meeting (subject to your own time requirements), we'll answer your questions, and we will listen to you. Ask us about accounting, operations, or anything else you've read: we'll tell you if we can help, and we'll tell you if we can't. At this point in our lives, our highest goal is to be of service.
Let us serve you!